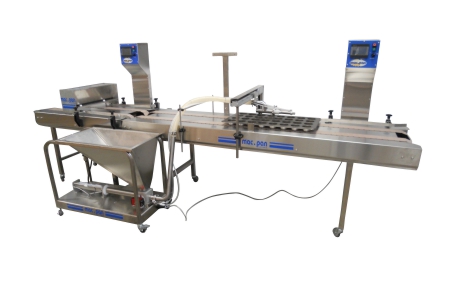 Our Australian-made Cyclops cake and batter depositor is an award-winning product with exceptional capabilities. This product is capable of depositing portions with inclusions into just about any type of tray configuration at an impressive speed of up to 2000. Constructed using only the finest materials, our Cyclops cake and batter depositor is sure to last the distance in any commercial bakery.
The Cyclops cake and batter depositor is simple to maintain, clean, and operate. With 24/7 support from highly-experienced technical staff, your Macpan equipment will always be operating at an optimal level.
– Range 25cc –  1200cc fill
– Compressed air and standard electric supply required
– 2.4 long x 600 wide all stainless construction
– Easy-to-operate digital display
– Easy-to-clean stainless steel surfaces
– Quick-stop safety functions
– Ergonomically designed for ease-of-use
– Minimal moving parts for easy maintenance and cleaning
– Durable wheels for easy moving
The benefits of opting for a high-quality Australian-made Macpan Cyclops cake and batter distributor can be found in the exceptional quality and overall durability of the product. Our team conducts strict quality control testing for each and every one of our products to make sure that they are meeting our high manufacturing standards. We also provide ongoing, 24/7 technical support for all of our great products to ensure we keep your business moving.
To find out more about our award-winning Cyclops cake and batter distributor, or to find out about any of our high-quality products, get in touch with us. You can contact us easily by phone on 1300 765 766 or send us an email at sales@macpan.com.au.