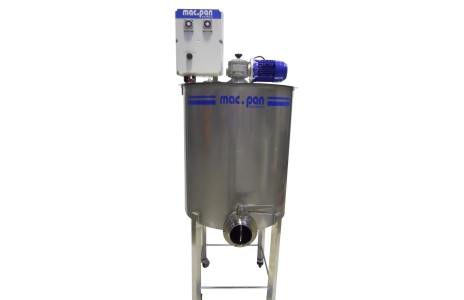 Our Australian-made Levain products are built using the finest quality materials. Manufactured using the toughest stainless steel, at our local Perth factory, our bakery products are built to last.
The Levain allows the user to create and maintain a liquid dough at an optimal level. Using the liquid leaven reduces overall mixing time and significantly improves the quality of the dough and its structure, increases flexibility, and increases the abundance of the dough, resulting in a better final product.
– Construction: Stainless steel
– Capacity: 200 litre
– Power: 240v 0.5kw
– Dimensions: 170cm (height) x 65cm (width)
– Easy-to-operate with simple controls
– Easy-clean stainless steel surfaces
– Ergonomically designed for safe use
– Minimal moving parts for easy cleaning and maintenance
– Durable wheels for easy moving
– Manual or automatic use
– Dual timers for both stirring and resting
The clear benefits of opting for a high-quality Australian-made Macpan Levain can be found in the overall quality and durability of the product. Our qualified and experienced team conducts strict quality control testing for all of our products to ensure sure that they meet our extremely high manufacturing standards. The team at Macpan provides ongoing, 24/7 product support for all of our great bakery, patisserie, and commercial cooking products to ensure we keep your business moving.
To find out more about our Levain products or any of our other bakery, patisserie, or commercial cooking products, get in touch with us. You can contact us easily by phone on 1300 765 766 or send us an email at sales@macpan.com.au.