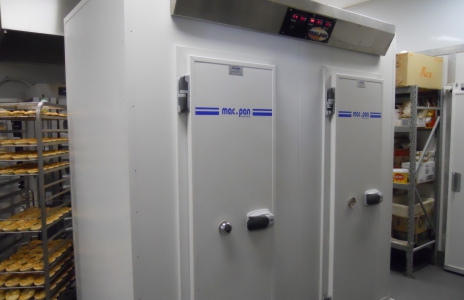 Our Australian-made proofer retarder products are built using only the very finest quality materials. Manufactured using the toughest stainless steel and fitted with high-quality European fixtures and hardware, our proofer retarder is sure to exceed your expectations.
The proofer retarder is a combined proofer and refrigerator which allows for the dough to be stored over longer periods of time than a standard proofer. Our proofer retarder allows you to store the dough overnight and commence the proofing process at a preset time. The temperature and moisture settings are controlled at an optimal level to prevent any drying of the dough.
– Single rack capacity 4
– 24/7 Temperature and humidity data logging
– Stainless steel interior construction
– European fixtures and hardware
– Easy 3 stage temperature and humidity programming
– Accurate all-day monitoring
– Manufactured in Australia from high-quality stainless steel
– Manufactured using Australian and European components
– Manual and automatic use
– High-performance humidity generator
The benefits of opting for a high-quality Australian-made Macpan proofer retarder can be found within the capabilities of the product, the high-quality materials used in the manufacturing process, and the exceptional European fixtures used in the construction of the product. Our highly experienced technical team conducts strict quality control testing for each of our products to ensure sure that they continue to meet our extremely high manufacturing standards and product goals. The team at Macpan provides 24/7 product support for all of our exceptional and award-winning bakery, patisserie, and commercial cooking products.
To find out more about our proofer retarder products or any of our other bakery, patisserie, or commercial cooking products, get in touch with us. You can contact us easily by phone on 1300 765 766 or send us an email at sales@macpan.com.au.