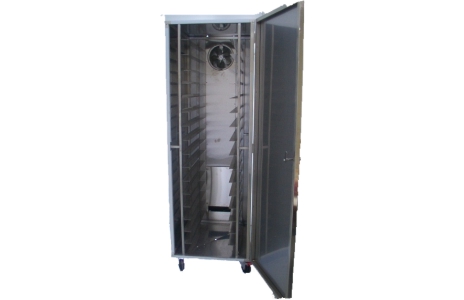 Our Australian-made Single Door Reach-In Proofer perfectly compliments any commercial barkery, patisserie, or industrial kitchen. Manufactured using only the very best materials, our Single Door Reach-In Proofers are easy to use, built to last, and yield the very best results.
Proofers are used in baking and other cooking practices to provide a warming chamber that encourages the pastry or dough to ferment. This process is controlled using humidity controls within the proofer which creates the optimal temperature for the dough.
– Single door for easy use
– Compact design suitable for small or large areas
– Customisable controls for varying temperature requirements
– Stainless steel frame, shelving racks, and door
– Constructed using high-quality Australian-made materials
– Precision airflow for balanced and controlled proofing capabilites
The benefits of opting for a high-quality Australian-made Macpan proofer can be found in the quality and durability of the product. We conduct strict quality control testing for each of our products to ensure that they are meeting our manufacturing standards. We also provide ongoing, 24/7 technical support for all of our products to ensure we keep your business moving at all times.
To find out more about our Single Door Reach-In Proofers, or to find out about any of our high-quality products, get in touch with us. You can contact us easily by phone on 1300 765 766 or send us an email at sales@macpan.com.au.

Cyclops Auto Cake and Batter Depositor

April 1, 2015